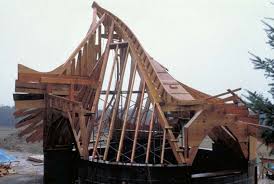 More About Construction Of The Sea Ranch Chapel
"The Sea Ranch chapel, commissioned by a private party, took nearly a year to complete. This non-denominational chapel is dedicated to the memory of Kirk Ditzler whose drawings were the foundation for the design. The roof gives a sense of sweeping, lifting movement, achieved by its manifold profiles. Its structure is inspired by winged forms, yet can be read in a number of different ways. Yet despite the great variety of shape and form, the 360 square foot chapel, achieves an underlying feeling of unity.
"James Hubbell has an almost democratic approach to his work. He involves his coworkers according to their abilities; and in this particular project the work was delegated to Tambe Kumaran. He and a team of highly skilled craftsmen set about realizing Hubbell's design from a small model and 1/4 inch engineering drawings.
"The chapel sits on a gently sloping site and is constructed on a six inch concrete slab with 12 inch foundation walls, filled with concrete block. The main structure of the building is made of wood siding which was dried and molded in place to create a shell. The curves of the roof were extremely difficult to accomplish, and Kumaran drew from his boat building experience to achieve both the curves and the chapel's even shingled surface. The materials used for this project are among the architect's favorites: a combination of stained glass, ceramics, metal and plasterwork.
"Brightly colored stained glass windows illuminate the interior which is large enough to seat up to 40 people. The interior is adorned by a white plaster 'flower' sculpture which caps the inner space, lining the ceiling and supporting a metal lighting fixture. A redwood pillar and other free form structures, such as a metal and glass screen in the corner, decorate the inside of Sea Ranch Chapel." ~ Excerpted from "Organic Architecture," Architectural Design Magazine, Profile No. 106 – 1995.
The chapel is open to visitors, but sometimes closes for private events. For more information on the chapel and visiting, visit their website
www.thesearanchchapel.org